There might be some nuggets in here that can help someone else so I wanted to post some pictures of my restoration efforts on the interior of my XJ.
Back in 2014 I stripped my XJ down to bare metal and repainted it. While it was apart I did some minor interior improvements like re-dying the carpets and cleaning the seats. I thought it came out pretty nice.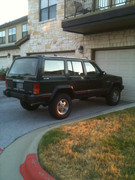 One additional element that I tried was to use some specialized interior paint I found from a company called SEM. The panel that covers the interior of the rear wheel well area was absolutely horrible. It had faded from gray to a dull yellow and stood out like a sore thumb so I decided to try this paint out. At the time I had very little faith that it would hold up but it looks as good today as it did when I painted it 6 years ago so I decided to repaint the rest of the interior trim.
With a 30 year old XJ I realized that I should probably do a little more than simply paint the plastic panels. I had a thumb sized hole in the dash that looked pretty bad. The screws that mount the lower dash to the upper dash had steadily grown in size as they loosened after each removal and I replaced them with larger ones. At this point, several of the posts had cracked and fallen off so I needed to do some plastic work as well. Also, one of the posts that holds the passenger trim below the door had broken off and the open hole annoyed me to death so I did some research and decided to try some products from a company called Polyvance. I am pretty impressed by how it came out and realized that my efforts here might help someone else.
Dash repair
I didn't get a "before" picture of the dash but below is a picture of the repaired area using Polyvance's dashboard restoration product.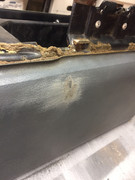 The hole has been filled in and the area has been sanded down. My next step will be to clean up the area a little more and then apply a special paint from SEM that is designed for vinyl and leather. I will post an update when it is complete. Also, there is a video at the site below that shows how this product works.
Plastic repair
The plastic repair was pretty easy to do and is surprisingly strong. The process seems to melt the old plastic and then bonds to it in moments. You can only do a little at a time but I found it pretty easy to build up the profile of the parts back to the correct size. Since they will be hidden, I didn't worry about making them "pretty" but it wouldn't be hard to do. There is a video at the bottom of this thread that shows how the product is applied.
Here are some pics of the post repair on the passenger lower trim and on the gored out holes on the upper dash.
Never been touched post: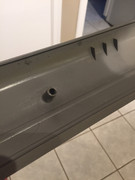 Repaired post: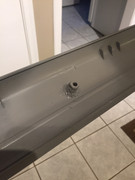 Never been touched post -topside: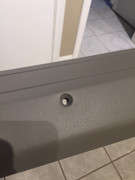 Repaired post - topside: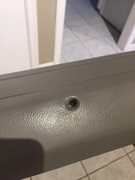 Repaired lower dash screw mount: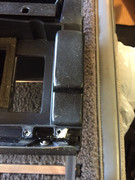 I still need to paint this area black and will post pics when it is done.
Interior paint
I couldn't get a perfect match on the interior paint but the SEM "Storm Gray" (part number 15763) is pretty close as you can see from the picture of the post repair: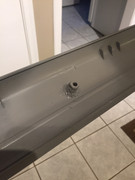 The center console and lower dash are a different color so I am using SEM "Graphite" (part number 15303). I chose this color because it is also available in the paint used for vinyl/leather that I intend to use to recover the dash, the armrest cover and the glove-box (SEM 17113)
Here are some pics showing the difference. In the first picture, the center console has been painted but the lower dash has not (weekend project):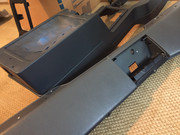 In the second picture, the defrost cover and ashtray have been repainted but the armrest top has not: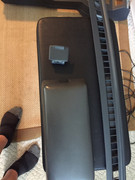 The match isn't perfect but it isn't horrible either. The gray is a little lighter than the original while the graphite is a little darker than the original but hopefully, they will look good together when it is all complete.
Polyvance Dash repair with a video showing how it works
https://www.polyvance.com/280Z-Dashboard-Repair/
Polyvance plastic repair with a video showing how it works
https://www.polyvance.com/PlastiFix-Grille-Repair/
I will try to post some pics when everything is reinstalled.
HTH
Todd