Here's a little recap from this year's Thanksgiving Run, year #12 for the NWC!
Nick, Scott, and Joe headed out for TSF Thursday night. I got delayed with some work stuff, and headed out of town early afternoon on Friday.
Got to Upper Lyda camp, and met up with the crew. Shared some stories around the camp fire for a bit, and then we geared up for a little night run. With Nick and I driving, and Scott and Joe co-driving we rallied up Hood Raiser, and crested Hogsback.
Cruised up to the top of 7-Up to check snow level, none to be found. We continued on down the back side of Hogs Back. I believe I made it through with the low score of one back up, but to be fair my Jeep also isn't 108" wide.
We attempted to run Rocky Uphill down, but that trail is now covered with downed trees due to logging. It's going to take some work to get that clear once logging is complete. Back to the camp fire we went.
Saturday morning we geared up for some more trails. Craig and his wife, who moved up here from the So-Cal chapter swung into camp and said hello as they were up there exploring the area with the family.
Nick and I then rolled out with Joe and Scott riding along. Our goal was head over toward Crushers. Up Hood Raiser, and over to Dog Leg.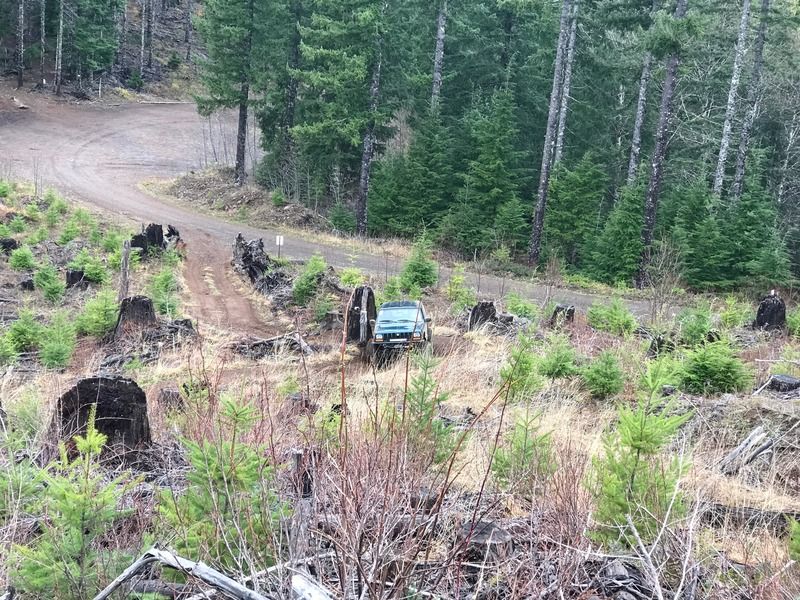 We continued on over to Saddle Up to do a little trail assessment. The trail looked to be in great shape, and the "rocky hill climb" is maturing nicely. Not sure what the concerns are with the trail, but the four of us enjoyed it.
Finished Saddle Up, and prepared to drop into Lower Crushers for some fun. Saw Bronzewyrm at the staging area with two other XJ's. Maybe next time we can run some trails together.
Lower Crushers was awesome.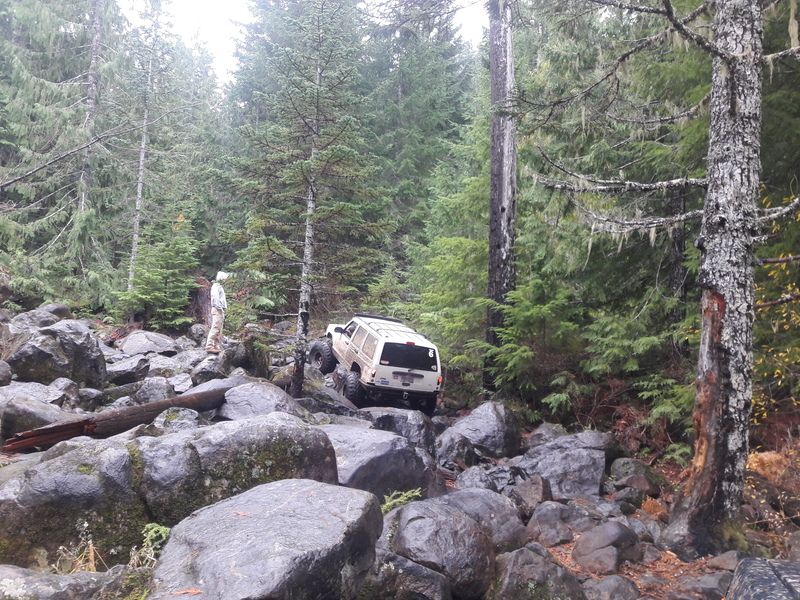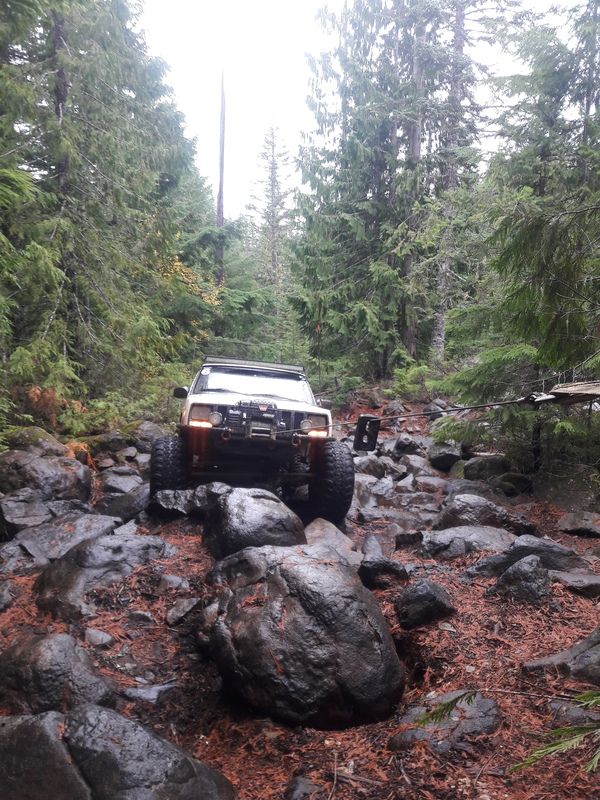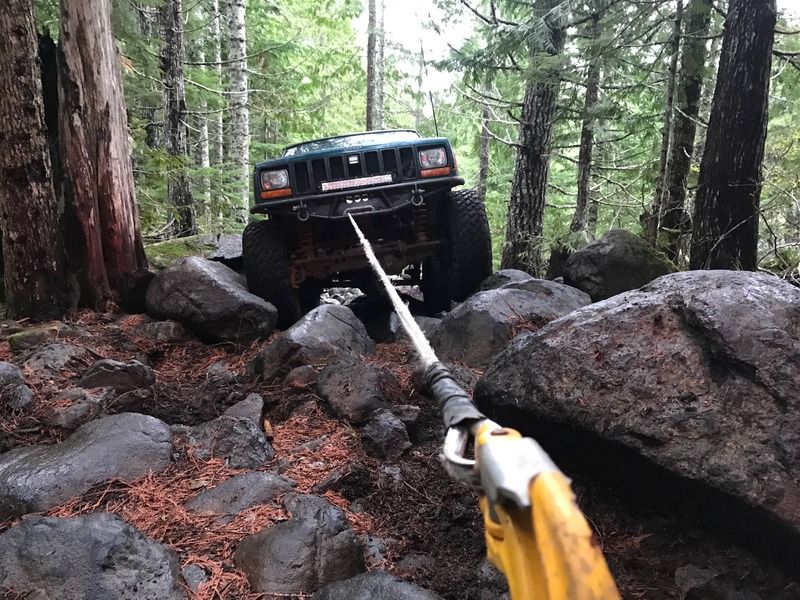 We cruised through the lower section with no major issues. A quick tug or two to was only needed when we diff'd out. I don't think Scott ever had a chance to get out of my Jeep.
After Crushers we rallied back to camp for a late lunch, and enjoy some camp fire time. Once the sun began to set we geared up for another run out. Goal was to run all of Archers out to the V-Notch and back.
We had a good pace going through all of Archers, and found ourselves above Waterfall at the double black diamond trail after. It was freshly logged, and pretty tore up... challenge accepted. Nick and I bumped out way through the lower rocks, and crawled out the top. It was a fun legit trail.
We continued on gunning through each section of trail. The rail shifter bouncing between three and four in 2.72. Just above the V-Notch section we encountered more logging operations. This time the start of the trail was nowhere to be found.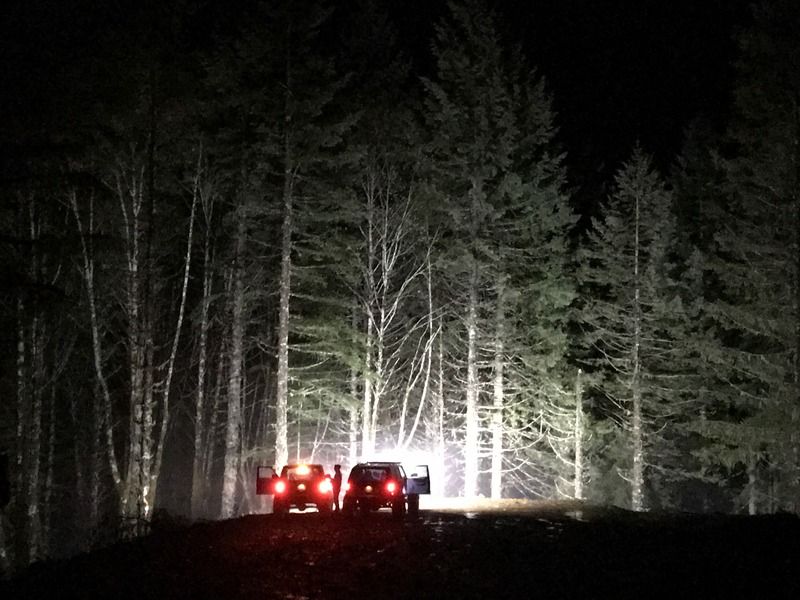 Nick and I hiked the road looking for the start of the trail, and found it hiding below a 12' 45 degree loose slope... challenge accepted. We both dropped into the trail ready to power out of the expected nose wheelie, but both had pretty uneventful runs. V-Notch has gotten really tame, and doesn't have the pucker factor anymore. We cruised down it, finished off the rest of Archers, and bombed back up it. We both winched back up the drop in from earlier.
Continued on back tracking through Archers back to Waterfall. For a little excitement we dropped down left side ledges, and then drove back up it.
We were back to camp a little after 8ish to enjoy some dinner, and a good winter fire...
All in all, a really laid back weekend with some good wheeling, and good people.