Turn it around backwards like the hood scoops on older Mopar cars.
From '69 Road Runner 6-Pack.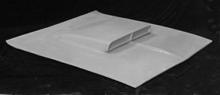 It will help the air flow over the motor, rather than like a cowl induction effect, which may creat negative pressure, from the air flowing through the front, and the air coming from the back.