Centering balls that is.
This thread showed up in my local chapter a few weeks ago:
http://www.naxja.org/forum/showthread.php?t=1137227
It was a timely occurrence for me. I was just about to the point of reinstalling my front driveshaft after having been without one for over a year on account of mis-matched axles. Iíd had the driveshaft rebuilt not quite two years ago, did one desert trip with it, and then it came out when I swapped my front axle and has been sitting in my garage since then waiting for me to swap the rear axle. I had never given a thought to the centering ball, but on account of the above mentioned thread I took a moment to look at what I could see. This is what I saw: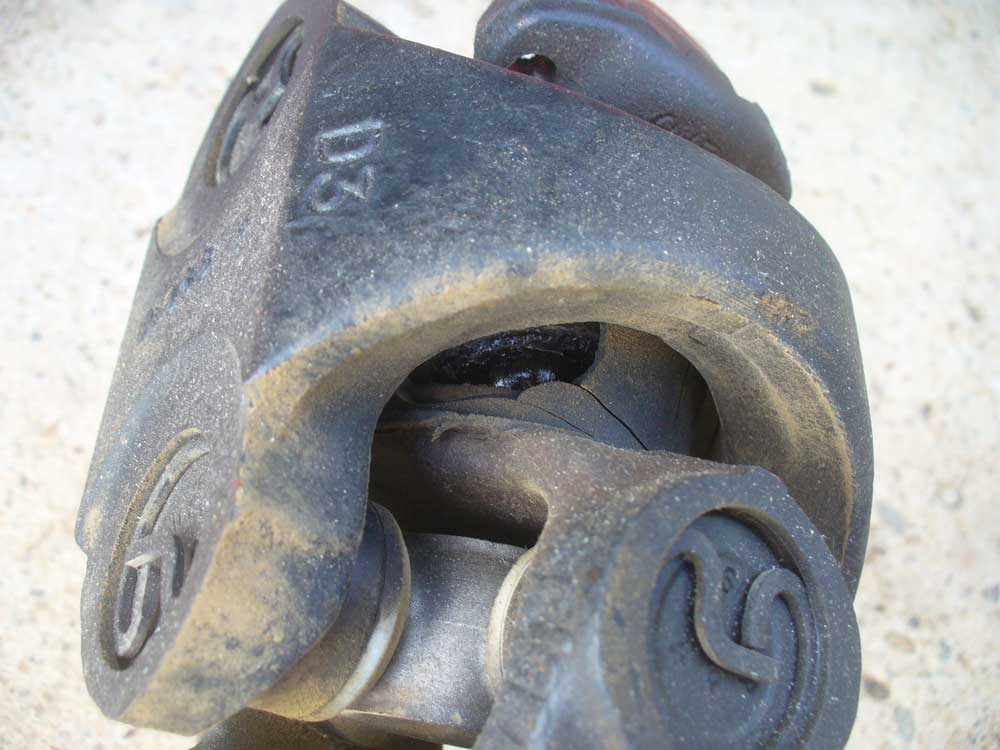 Nice. Real nice.
When you see the pictures of the U-joint you will be able to see that this shaft has very little time on it since the rebuild. Whoever it was who handled these parts chose to ignore this detail. I fully expect it is a form of job security for someone. Bastages.
Well, with a 2,500 mile trip in front of me it was time to figure out how to fix this.
First thing was to find a replacement seal. It seems this is not listed as a driveshaft seal, or dust boot, or rubber boot, but rather as a slinger. I donít know what it slings, but that seems to be its name. I ordered two just to be safe. Turns out that was a wise choice.
Once parts arrived it was time to figure out how to remove and replace the seal. The first trick is getting the U-joint out of the way. It took me a little trial and error before I figured out the first step: You have to depress the spring in the centering ball by prying on one side of the centering ball yoke so that you can then pry out one of the U-joint bearing cups. There is just enough clearance to accomplish this. Then repeat on the other side bearing cup (for which there will now be plenty of clearance). Then you can proceed to press out the U-joint. I didnít get pics of this disassembly process, but the pics of the reassembly process may help to clarify.
With the U-joint out of the way this is what I had. Note that the useful part of the seal is entirely missing from 3 oíclock to 6 oíclock.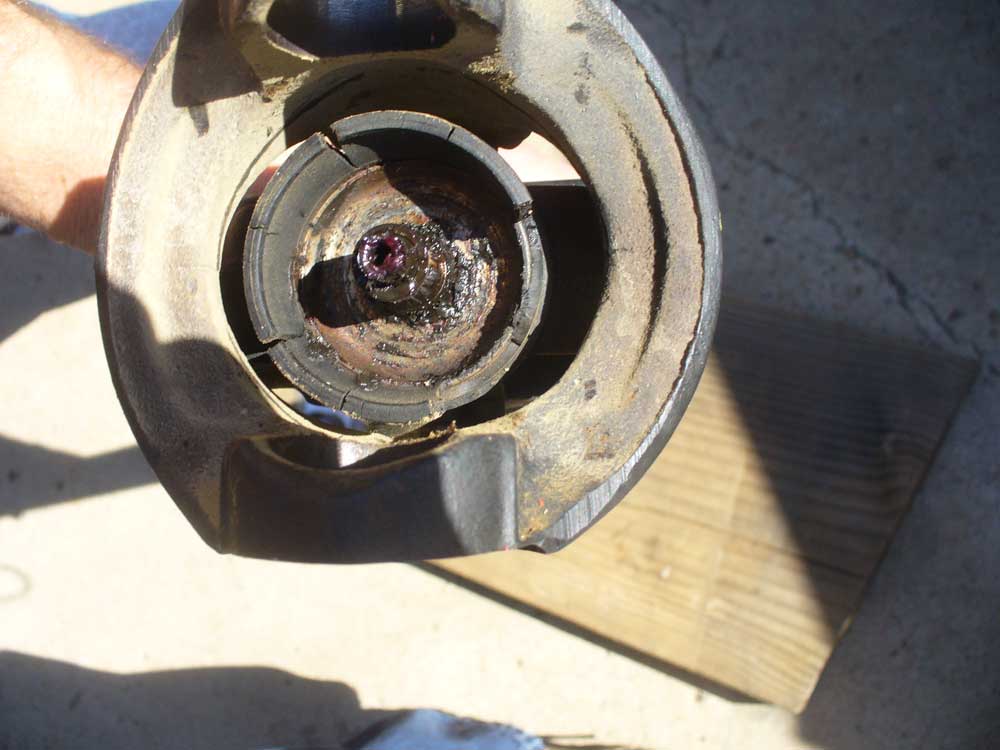 Here is the replacement seal, or slinger: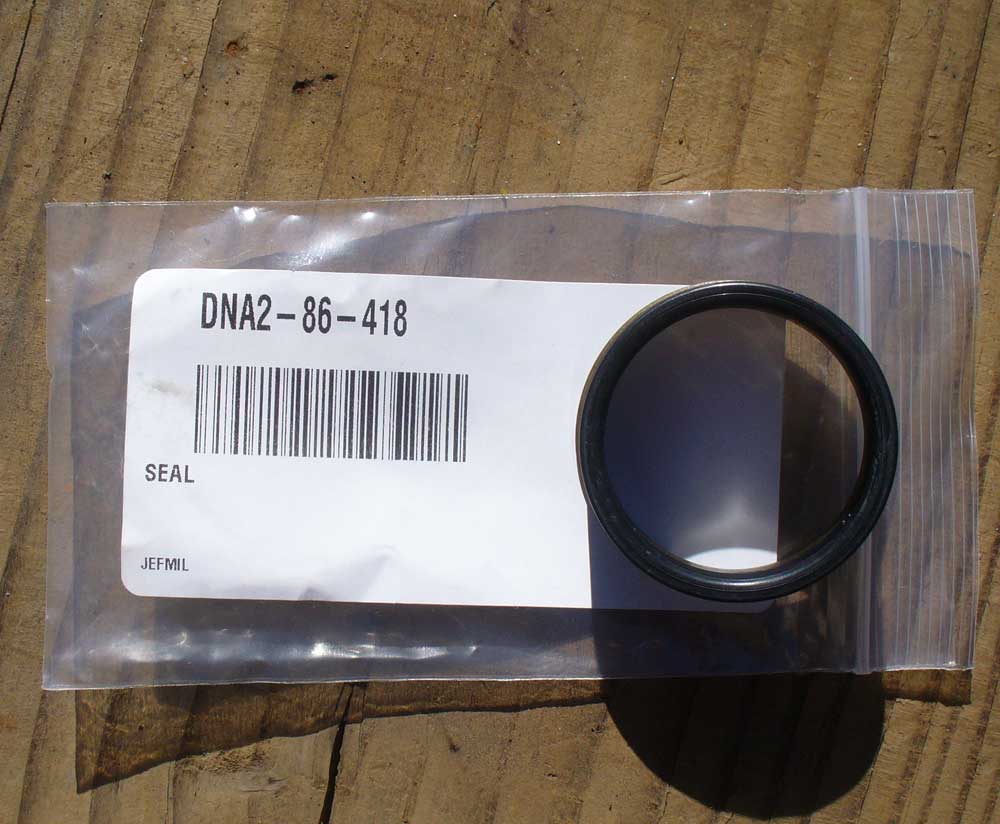 Getting the old one out was a piece of cake. I used a flat blade screwdriver and a hammer to tap around the base of the circumference and it popped right off: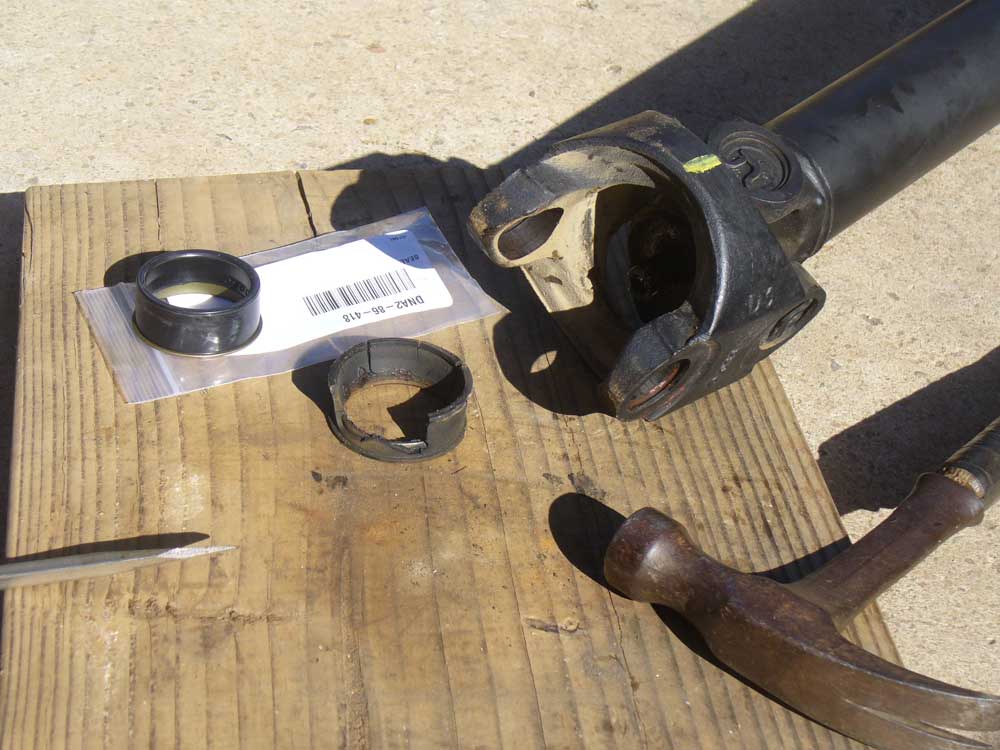 I then tried to install the new one using the same tools. That didnít work so well. There isnít enough steel in the bottom of the seal to maintain its shape on the way in. I mangled the first one pretty well. If I had to I could probably straighten it out, but I had a second one to work with, so I decided not to spend time fixing that mistake, but rather to work on coming up with a better means of installing the new one. I was looking for a scrap of steel that I could turn on the lathe to match the diameter of the seal when I found something that was close enough, and might be more readily available to folks in general: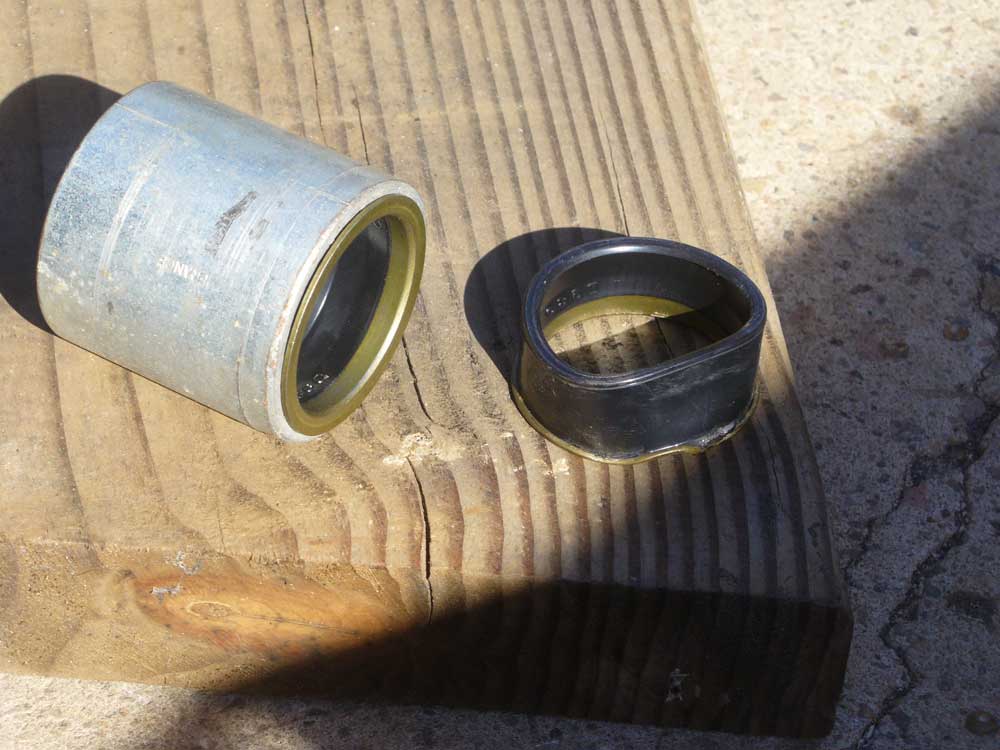 That is a 1 ĹĒ rigid steel conduit coupling. It is not EMT, that is the thinwall stuff. It is more comparable to 1 Ĺ" galvanized pipe, but the specs are different. Probably the most important difference here is that the threads are not tapered for rigid whereas they are tapered for pipe.
An important note about using this as an installation tool: After seating the seal with the coupling you will need to rotate the coupling 180 degrees and seat the seal a second time. The reason for this is that the leading thread will not seat the seal on one quarter or so of its perimeter. The depth of the thread cut is about the same as the depth of the seal flange, so there is no pressure in one section. A rotation of the coupling and a few more taps takes care of this quite simply, you just have to be paying attention.
With the new seal in place I greased things up: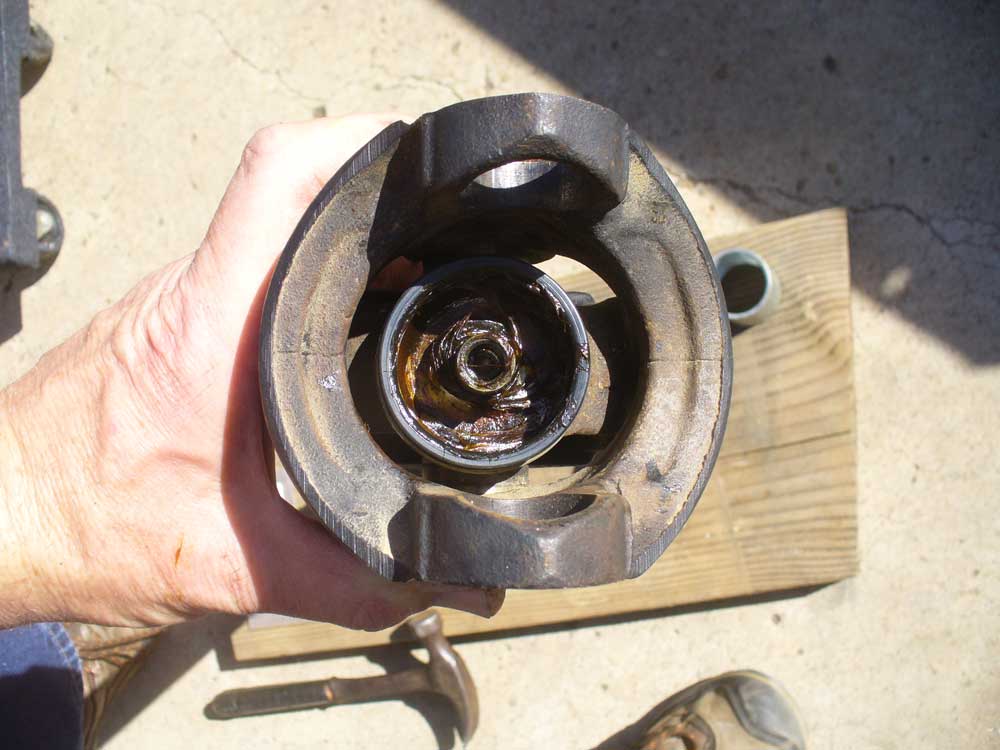 Spring back in and ready for reassembly: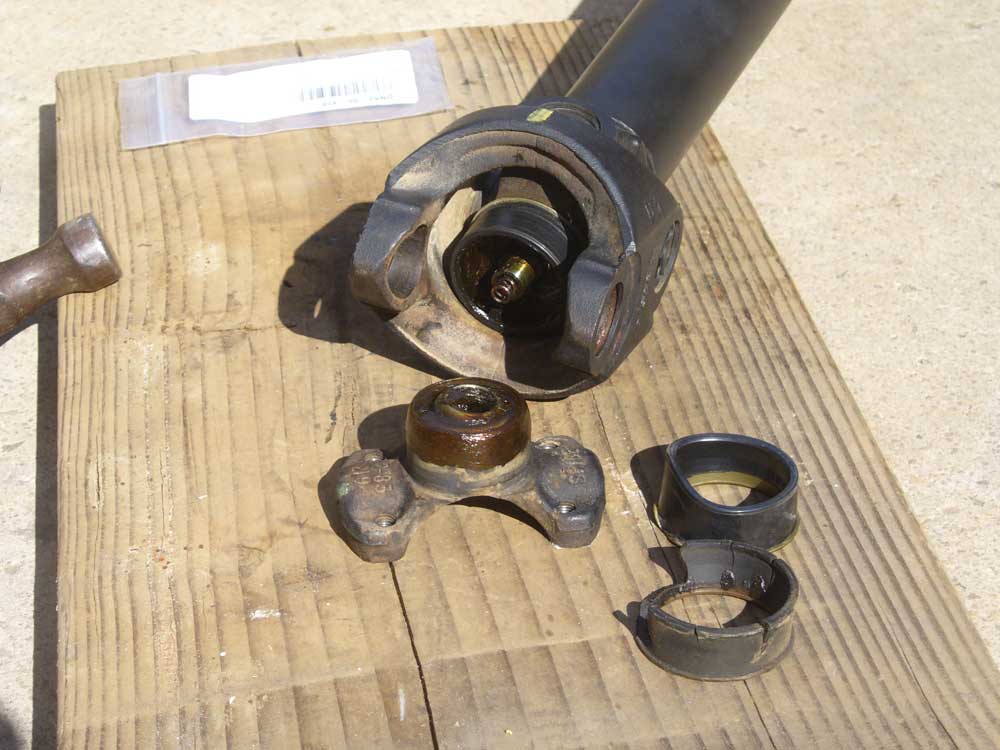 Here we have the U-joint pressed back in, but no bearing cups on yet. Make sure you clean up that yoke before this step. I had plenty of grit packed in behind the cups. Grit that the driveshaft shop did not bother to clean out. Bastages again. And yes, that is the U-joint they installed. You can see the overspray on it. And you can tell it has no rust on it at all.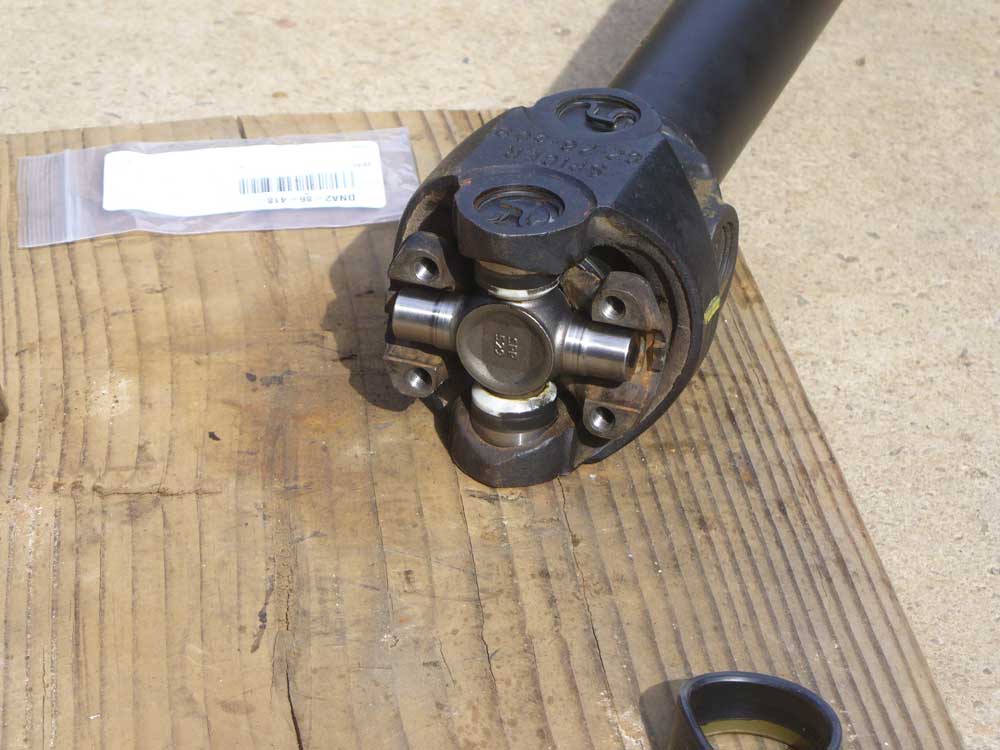 Here it is, all reassembled and ready to be installed in the Jeep.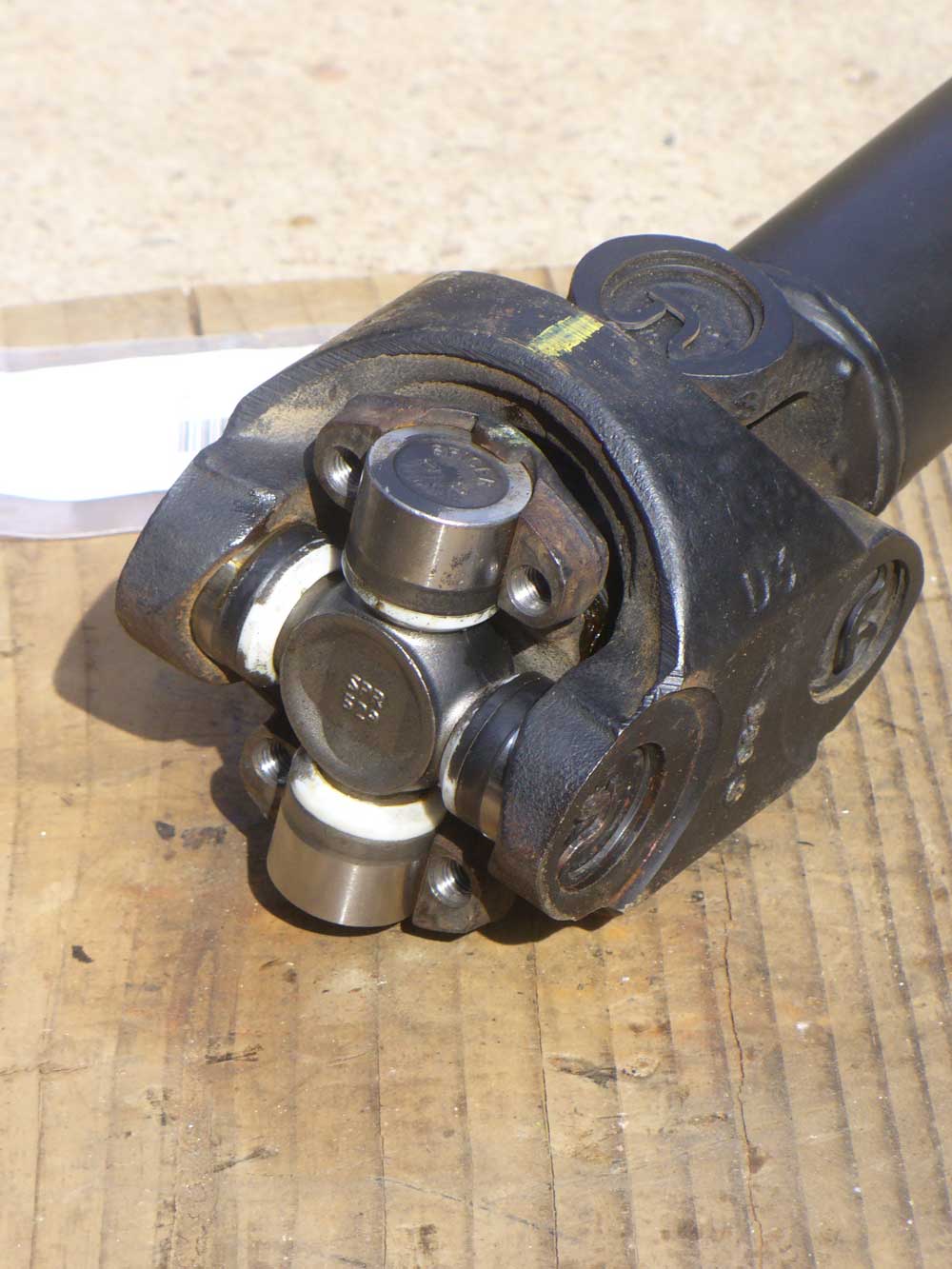 My thanks to donthelegend for posting up his mishap. It probably saved me from ending up in the same boat. Hopefully this will help someone else too.
Also, for what it may be worth, the Spicer 211355X Socket Yoke Assembly (new centering ball) comes with a needle type zerk fitting. I had ordered that too at the same time I ordered the slingers, but it didn't arrive in time for my trip. One of these days I will swap that in. Otherwise there is no good way to lube the centering ball short of disassembly.